India's economic recovery has gained significant momentum, positioning the country as a key contributor to global GDP growth, according to a recent report by Morgan Stanley. As the Indian economy continues to outperform its counterparts in Asia and defy the weakness seen outside the region, the country is benefitting from a combination of cyclical and structural factors. With various indicators pointing towards a robust and broad-based recovery, India is expected to contribute 16% to global GDP growth over the period of 2023-2024.
Buy Prime Test Series for all Banking, SSC, Insurance & other exams
Strong and Broad-Based Recovery: India's recovery from the pandemic-induced economic downturn has been characterized by its strength and broad-based nature. The Purchasing Manager's Index (PMI) has reached a 13-year high, while the manufacturing PMI is near an 11-year high—both surpassing the performance of other economies. Notably, passenger vehicle sales have soared to 131% of pre-Covid levels, indicating a remarkable rebound in consumer demand. Additionally, real goods and services tax collections have surpassed pre-Covid levels by 35%, and services exports have witnessed a substantial rise of 84% since October 2020.
Key Driver of Asian Economic Growth: The Indian economy's resilience and positive trajectory have positioned it as a vital contributor to the outperformance of Asian economies. While several regions continue to grapple with economic weaknesses, India's recovery stands in stark contrast. The country's robust domestic demand, buoyed by healthy balance sheets, has been a significant driver of growth. Furthermore, India's services exports have played a pivotal role in offsetting any potential downsides in goods exports. The broad-based recovery, supported by both domestic and international factors, has solidified India's prominence in the Asian economic landscape.
Favorable Macroeconomic Indicators: India's macroeconomic stability indicators, such as inflation and the current account deficit, have moved back into policy makers' comfort zones. This positive development suggests that policymakers will not need to adopt restrictive monetary policies, providing the economy with ample room for expansion. With inflation under control and a manageable current account deficit, India can maintain its growth trajectory while ensuring stability. The report highlights that India's strong growth outlook remains unmatched among large economies, further solidifying its potential to contribute 16% to global GDP growth over the next two years.
India's Economic Transformation: From Services to Manufacturing-Led Growth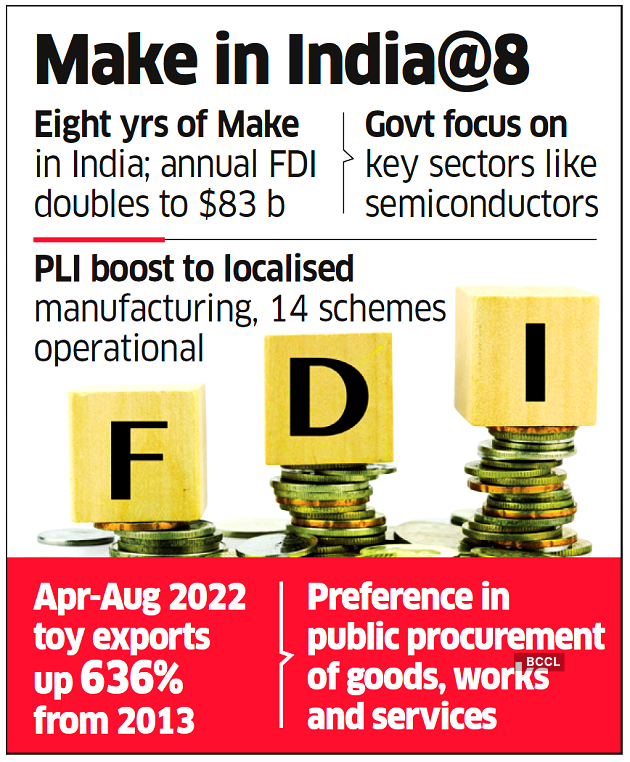 India's economic landscape is undergoing a significant shift as the country aims to transform itself into a manufacturing powerhouse while leveraging its geopolitical stance in a multipolar world. Unlike the Asian tigers, India's economic growth has been predominantly driven by the services sector. However, recent policy changes and initiatives have laid the groundwork for a shift towards large-scale manufacturing capacities, supported by the production linked incentive (PLI) schemes.
The Shift towards Manufacturing: India recognizes the need to diversify its economic base and reduce its dependence on services. While countries like China and South Korea achieved economic miracles through industrial transformation, India seeks to replicate this success by actively incentivizing large-scale manufacturing. The PLI schemes, spanning 14 sectors including automobiles, solar panels, and advanced batteries, have attracted significant interest. These initiatives have not only facilitated the growth of manufacturing but have also positioned India as an exporter of mobile phones, showcasing its potential in the global market.
Import Substitution and Supply Chain Realignment: As the world reconfigures supply chains to reduce reliance on China, India has a unique opportunity to enhance its manufacturing capabilities. The government's focus on import substitution aims to boost domestic capacity and reduce external dependence. With a $26 billion subsidy scheme in place, India is poised to attract investments and leverage this shift in global supply chains. Emerging sectors such as aerospace, semiconductors, and renewables hold immense potential for job creation, particularly among the youth, further strengthening India's economic fabric.
Reforms and Infrastructure Development: India's reform measures are starting to yield positive results. Initiatives like "Make in India," which encourage foreign and domestic investment in manufacturing, have gained traction. "Smart Cities" aims to transform urban areas, eradicate squalor, and enhance livability, while "Digital India" targets a comprehensive overhaul of government services through digitalization. The government's Open Network for Digital Commerce (ONDC) aims to deepen e-commerce penetration and foster innovation, especially among start-ups, with a focus on small merchants and rural consumers. These efforts are integral to improving the country's infrastructure and creating a conducive environment for economic growth.

Financial Reforms and Formalization: India has undertaken financial reforms to facilitate the growth of young firms and address challenges associated with non-performing assets. The government's support for the "tech stack" and the drive to formalize the economy have paved the way for easier access to financing and improved business environments. By promoting a culture of entrepreneurship and streamlining bankruptcy procedures, India aims to foster innovation and create an ecosystem that encourages both domestic and foreign investments.
India's Resilient Economy Set to Drive Global Growth:
India's remarkable recovery and its projected contribution to global GDP growth underscore the country's resilience and potential. With a robust domestic demand, thriving services exports, and favorable macroeconomic indicators, India's economic outlook stands out among its peers. As India continues to navigate the post-pandemic landscape, its strong growth trajectory will serve as a beacon of hope and opportunity for both domestic and international stakeholders. The country's sustained growth and broad-based recovery will not only benefit its own population but also contribute significantly to the global economic resurgence in the years ahead.
Find More News on Economy Here